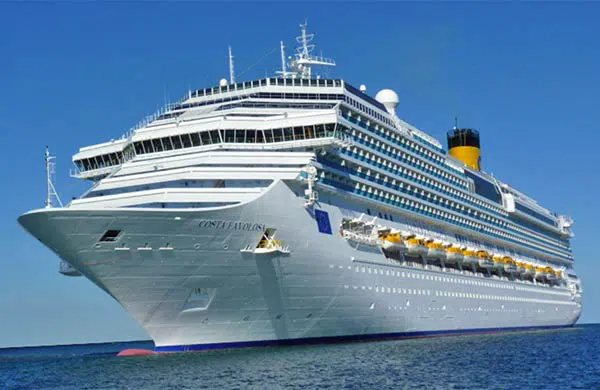 Costa Favolosa, Costa Fascinosa's twin ship is one of the biggest ships of the whole Costa fleet.
Costa Favolosa navigates on the Mediterranean, the Caribbean and Northern Europe and it is always versatile and it is the perfect scenario for all the destinations. The ship can host up to 3.800 passengers that can enjoy the many cabins available on board: internal, ocean view or balconies, according to your necessities, and, for the most hard to please, Samsara cabins, directly inside the wellness centre, to always feel at best every moment of your cruise. Everybody like Costa Favolosa because it is equipped with every kind of comfort: 5 hydromassage tubs, 4 pools, one of which with self-propelled roof, 4D cinema, theatre and, for those who want to feel pampered, the Samsara Spa, about 6.000 square metres wide with pool for thalassotherapy, sauna, Turkish bath and a gym to keep yourself in shape. What about the kids? Don't worry! They can have amazing time in the super equipped mini club, for having the best of fun with Costa Cruises staff.
Sumptuous, rich and elegantly detailed ship of the fleet, its effect is simply magic, an enchanted castle cutting through the sea and the waves. Costa Favolosa is the perfect setting for your next holiday. Nothing is missing: crystals, marble, stones and refined woods, the elegance is in every detail and always surprises the passengers. You will be on board of one of the best ships in the world.
But the excellence is not limited to the settings and their amazing furniture and decorations. On board of Costa Favolosa, every meal is a banquet and all the ingredients are chosen carefully to satisfy all the passengers' tastes, even the most hard to please will be happy, thanks to a 5 stars service. Relaxing at the Samsara Spa is the perfect solution to find your psycho-physical balance and be cuddled by our skilled experts.
You will enjoy all the benefits of the climate and the marine atmosphere mixed with the extraordinary efficiency of ancient rituals and oriental treatments.
You won't forget the total relax that you will feel immersed in the jacuzzi on the terrace of your private cabin, while admiring the infinite of the sea. Surprise yourself in the new "PlayGround 4D Cinema, PlayStation and other attractions. The enchanting atmosphere on Costa Favolosa will take your kids to adventurous attacks to the Pirates' Galleon in a real Aqua Park fully equipped of every kind of attractions on the deck. .
You will also find virtual reality simulators with Golf and racetrack simulators… The only way to believe in all this is getting on board this amazing ship.