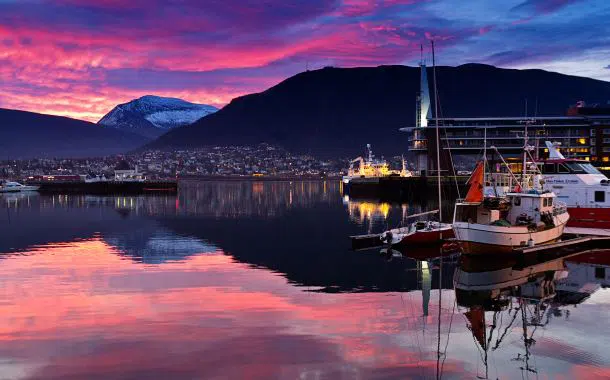 Tromsø is the biggest city in Northern Norway and one of the most populated. It is situated about 350 km far from the Arctic Circle. The city centre develops in an isle called Tromsøya, while the population lives on the mainland, Tromsdalen, which can be reached thanks to bridges that confer the city a peculiar character. The area where Tromsø was established, has been inhabited since the Glacial Era. During the Middle Age, the Sami settled down here and it was in this period that Tromsø became a frontier town with Russia.
Due to the proximity with the Arctic Circle, it is possible to enjoy natural spectacles such as midnight sun, that happens during the period of Summer Solstice and that is the reason why the night does not fall. Tromsø is a touristic destination mainly for the phenomenon of the Aurora Borealis: between the end of September and the end of March, it is possible to enjoy this natural enchantment that attracts visitors from all over the world that are not afraid of the low temperatures, as it is really worthy. Photography lovers will find their ideal dimension and will take back home their photographic trophies.
Tromsø is a university city and many local and foreign students populate the city. In the city centre, it is possible to visit a museum that collects relics from the expeditions towards the Arctic Circle. The majority of these expeditions started in Tromsø.
Tromsø is also an important port for the cruise market. It is a stop-over for the Cruises to Norwegian Fjords, whose passengers can enjoy their beauty. In Spring and Summer, the only period where you can cruise along this area, the valley are painted in a shiny green and are a real spectacle to enjoy on board of a cruise ship.