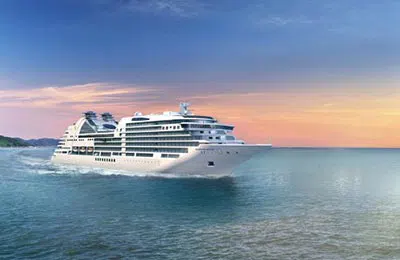 Seabourn Ovation (2018) is the new Ultra Luxury ship of the Seabourn fleet, twin ship of the recent Seabourn Encore (2016), currently flagship of the company.Seabourn Ovation will be an explosion of sophistication and luxury, a never seen before experience of comfort. The 600 guests will travel only in wide and spacious Suites elegantly decorated and furnished with precious materials. On the ship, plenty of surprises and activities! From the Observation Bar to the Wellness Spa and endless nights in the Casino, Seabourn Ovation only offers the best.
The choice for the food service is wide: from Sushi to the international cuisine and the delicate gourmet experience… each guest will discover new flavours on this ultramodern ship. If your priority is keeping yourself in shape, there is an amazing gym and a wellness centre. For the shopaholics, the most prestigious brands are available on Seabourn Ovation. All this in a sophisticated setting whose design was signed by Adam D. Tihany.
All the details, the lines and how the sun light enters the areas has been studied and calculated, nothing is fortuitous. Let yourself be amazed by the play of light and the majestic atrium and enjoy the comfort of your gorgeous suite. A cruise on Seabourn Ovation is a must if you're looking for an extraordinary luxury experience. The staff is always available and at your disposal, all the areas on board are sophisticated and the itineraries are just fabulous. Forget any queue, crowds, confusion, they just don't exist onSeabourn Ovation . Everything works perfectly just to provide unforgettable holidays on one of the most beautiful jewels of the sea.