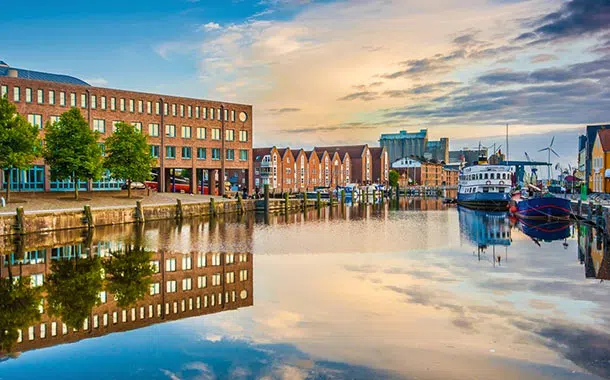 Kiel is a city in Eder River and it is near the Baltic Sea. Hamburg and Lübeck are the nearest cities and are about 90 kilometres far from Kiel.
The origins of Kiel are dated back to XII Century. The city was established by Schauenburg Family and it was the farthest north city of the Holy Roman Empire. Among the noteworthy structures, the University is one of the most ancient and was founded in 1665.
During the years, Kiel was subjected to the influence of the neighbouring countries and has been property of Denmark and Sweden. Germany took it back in 1815. At the end of XIX Century, Kiel Canal was opened. It is about 100 kilometres long, and it links the Baltic Sea with the North Sea and it's been so far one of the most congested canals in the world. Kis an important port for the cruises to Northern Europe and has all summer long many departures for the Baltic Capitals and the Norwegian Fjords.
Kiel is an important port of the cruise market: many of the cruises to Northern Europe depart from Kiel. It is no coincidence that it is the most important port in Germany.