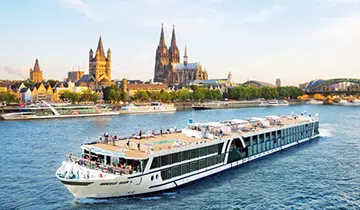 Discover the River Cruises in Europe, an alternative and original way to admire the beauty of Central Europe, visit big capitals such as Wien and Budapest, taking pictures of the European landscapes from an unusual point of view. Sail on the Sein, the Rhine, the Danube and the other main European rivers with the Best Cruise Lines specialized in River Cruises.
River Cruises: what to do
A river cruise is an alternative way to get to know the Old Continent, rich in history and culture to explore. Navigating on a river allows you to feel the magic of places such as Wien, Paris and Budapest and fill your eyes with enchanting landscapes. This is why a river cruise is the perfect combination of culture and nature that increases your cultural baggage and makes you live the emotion of breath-taking views. Sail on the Danube, the Rhine and the Seine, the scenario you will find will leave you breathless.
Set sail on board of Arosa cruise ships on the Rhine and visit Cologne, with its amazing cathedral, or take a ride on a bike in Amsterdam, where the atmosphere is magical.
Luftner cruise ships will take you to France, where you can visit historical cities such as AvignonLion and reach Romania, Czech Republic and Austria. Comfort is the key word. On board you will find an impeccable service, high-quality food and everything for your wellness. With our offers, your river cruise will be even sweeter. Taoticket has access to the most competitive rates on the market and allows you to explore Europe at discount prices. Our operators are always at your disposal to understand your needs and organise a personalised trip to make your holiday an unforgettable memory.
Contact us, to receive your personalised estimate and plunge into the amazing scenario that only Europe can offer!