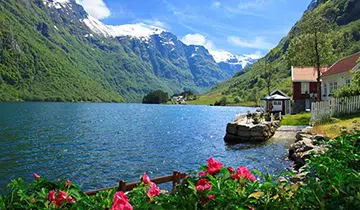 When you think of a cruise, the imagination runs to transparent seas, white beaches and tropical islands.
But there is another segment of cruises that allows to change this scenography with another one dominated by imposing scenarios constituted by high rocky labyrinths dug by a cold northern sea, where you can find the colorful Norse villages suddenly appearing among the green of a lush nature. It is the Norwegian Fjords that make the tourists admire a spectacle of nature, which can only be found in this part of Northern Europe. Discover more offers of the cruises for Norwegian Fjords.
It is good to keep in mind the fact that the booking scenario is highly changeable and, therefore, it is necessary to recheck the availability by contacting the tour operator who manages the reservations. In the vast bouquet of offerings, the most popular Norwegian Fjords Cruises proposals were taken into consideration.
Let`s discover the charm of Norwegian Fjords together with the different routes at different prices.
Everyone knows that the biggest tourist attraction of the Scandinavian Peninsula is represented by the Norwegian Fjords. The fjords were created by the ocean flood in the valley whose rocks of the mountains eroded by the glacier for millennia. The most famous fjord is Sognefjord which is the longest, the narrowest and the deepest one in the world! It is 204 kilometers long with many sea branches, which are surrounded with an uncontaminated and wild nature where you will be able to admire cobalt cliffs overhanging the sea, waterfalls from great heights and the different shades of green that harmonize mosses, trees and plants in a kaleidoscopic natural patchwork.
Besides, 11 of 20 large glaciers in Norway are in the fjord region. You will also be bewitched by the most photographed place in the world: the Pulpit Rock, near the delightful city of Stavanger.
Bergen, with the typical docks of a port so historic and characteristic to be named a UNESCO World Heritage Site, is the cornerstone of the cruise to the Nowegian Fjords but certainly not the only one. Do not miss the waterfall of the Seven Sisters in Geiranger, together with the waterfall of the Suitor to the opposite side. Flam Village is located in the Sognefjord, from where you can admire the many wonders of nature that surrounds it.
For those whose cruise itinerary also touches the North Cape shall reach the end of Europe with an unforgettable emotion in front of Arctic Ocean.