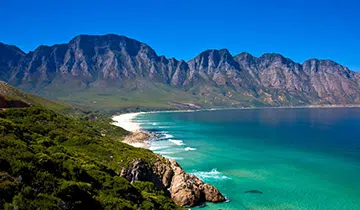 Change route and leave on a Cruise to South Africa!
Let Taoticket take you to one of the most fascinating places in the world: South Africa. A
cruise in South Africa
is what you need if you're looking for wild and uncontaminated nature combined with the urbanization and the modernity of cities such as
Cape Town
and
Durban
.
Cruises in South Africa: what to see

Escape from the cold of winter and welcome the warmth of South Africa! Choose a 2 to 4 nights cruise with MSC Cruises: the right solution if you want to match the cruise with a hotel to visit Cape Town, Durban or the surrounding area. On board of MSC Sinfonia you will discover Portuguese Island and Maputo, capital of Mozambique, where dream beaches, immerged in a wild nature are waiting for you.
If you want to explore such a far side of the world only by sea and you cannot say no to luxury, a Silversea cruise is what you need. With Silver Cloud you leave from Cape Town and reach Port Elizabeth, famous for the beaches and for the well preserved colonial buildings. In Maputo you will be amazed by the mix of restaurants and bars combined with the boulevards with palm trees, sumptuous villas and buildings dating back to the colonial period and will visit the Natural History Museum. It's here that Vasco Da Gama arrived while directed towards India in the far XVI Century.
Take a look to all our cruise deals on our website and let your journey begin! A cruise in South Africa will be an enriching experience and you'll be surrounded by beauty that you'll never find anywhere else.
Taoticket selected for you the most convenient offers and the low-cost cruises just to give you the best. Contact us at the number +390105733006 or leave a request on our website, we will contact you immediately!

You can discover the charm of this amazing land with a cruise in South Africa with MSC Cruises: leave from Durban o da Cape Town and discover Mozambique, where the sea has the most shining shades.
Take a look to our cruise deals on our website and decide when you want to leave! The Mediterranean climate and the southern position of the Region make South Africa a desirable place for winter vacations: between November and April you will find the warmth you miss when you are at home.
You're going to fall in love with the colors of nature and the shades of the marine landscapes. Match your cruise in dream places with a stay in Cape Town or Durban to fully taste the spirit of this part of the world. Taoticket provides you with the cheapest flight available to reach the port and the hotel you want according to what you need.