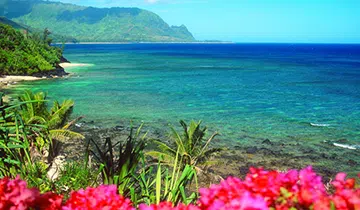 Discover an uncontaminated heaven with a Cruise to Hawaii!
Do you want to fulfil a dream and visit one of the most desired places in the world? With Taoticket you can enjoy a special cruise to Hawaii, a
paradise of soft beaches
and steep volcanic cliffs. The untouched nature and the transparent sea will be the main ingredient for your
exclusive cruise
. You will get in contact with the local population and you will immediately notice the amazing
hospitality and politeness
that make this land even more pleasant.
Cruises to Hawaii: what to see
On a cruise to Hawaii you will discover the most characteristic areas of these islands and feel like an explorer in an uncontaminated and pure land. Travel with Pride of America, historical ship of Norwegian Cruise Line that will make you discover the Volcanoes National Park in Hilo, the famous sanctuary in Kona and you will remain speechless in front of the spectacular landscape of the Waimea Canyon in the heart of Kauai.
Travelling on a Princess Cruises cruise, you leave from Los Angeles and you can visit the famous Pearl Harbor, a place that marked history and Hanauma Bay, a natural preserve populated by 400 species of fishes and famous for the green sea turtles also known as "Honu".
Let yourself be impressed by this enchanted place where surfers from all over the world dream to reach for the unbelievable waves: some reach 30 m. height! Contact our operators and seize the best offers for your cruise to Hawaii! With Taoticket you can find convenient rates and low-cost deals. We provide you with the cheapest flights to reach the port of departure. Choose the right cruise, choose a cruise to Hawaii.
Take a look at all the offers for your cruise to Hawaii, and thanks to our competitive rates, you will find the vacation that best suits you. Set sail from Honolulu and… Aloha!