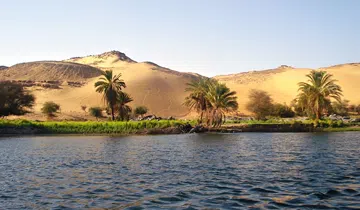 River cruises on the Nile: a fantastic itinerary to discover the treasures of Egypt
Sailing on the legendary Nile River in Egypt will allow you to contemplate exotic landscapes, visit temples, tombs and archaeological finds of enormous value; to discover life in the cities of Upper Egypt that have survived millennia of historical vicissitudes with all the comfort and services of a cruise. And above all to admire the temple of Abu Simbel, a must!
Nile cruises are a unique experience aboard 5 and 6-star ships, where service and on-board experience are combined with excursions to millenary places full of history and natural beauty.
Cruises usually depart from the ancient city of Luxor and during a week take you to discover the main monuments of ancient Egypt: Pyramids, The Sphinx and much more are waiting for you! Without forgetting the comfort of your ship that always accompanies you.
Nile cruises: when to go?
The best times for a Nile cruise are Spring and Autumn.