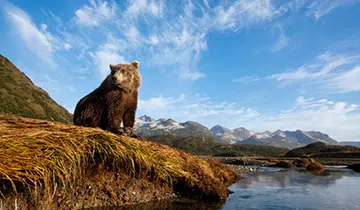 Discover the Magic of Nature with a Cruise to Alaska!
Navigating in the heart of the picturesque and characteristic landscape of the
Arctic Circle
, you will breathe the magic of this place. A Cruise to Alaska is
synonym of adventure
, discovering wide spaces and almost desert nature. Its majestic glaciers, rugged mountains, lakes and impressive falls will offer, on board of one of our Cruise Ships, an unforgettable cruise. You will visit the amazing
Route of the Glaciers
aboard of Princess Cruises to live the spectacle that the glaciers offer and stopping over the neighboring small cities.
Cruises to Alaska: things to see and do
If you go on a cruise to Alaska we suggest you to visit the Glacier Bay National Park with Princess Cruises, where you can enjoy the spectacle of the glaciers. The park is included in the UNESCO World Heritage and inside of it, you can see whales, sea oatters and seals for a direct contact with nature's life. If observing a glacier is not enough, you can enjoy a combined helicopter+hiking excursions to live this natural phenomeno to the fullest. We suggest a visit to the College Fjord, discovered in 1899, offering a unique landscape, and the Mandenhall Glacier, the largest iced area of the southeast Alaska. Take a look to all the departures for Alaska on our website and take advantage of our offers!

Besides its extraordinary nature, Alaska is famous also for its culture that links the tradition of the American natives with Anglo-Saxon culture. Juneau, the capital of the State, is an extremely fascinating City. Visiting the city of Skagway, you will understand the history of the Gold Rush that attracted thousands of people on the shores of Yukon. If you want to distinguish yourself, choose a cruise to Alaska among our offers and you will find your corner of peace far from the crowd.