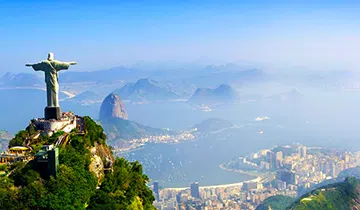 Leave for a Cruise to South America and live an authentic adventure!
South America is an extremely rich land including ancient tradition linked to the population that inhabited this area before it was discovered by the European. Book with Taoticket your Cruise in this zone of the world and visit places such as Argentina, Uruguay, Brazil and many more in a trip that will make you discover the eldest traditions of places famous all over the world for their natural beauty and their vivacity.
Cruises to South America: things to see and do
A Cruise to South America is a unique experience and might become the trip of your life. Choose your favorite itinerary, they are all just amazing. In
Buenos Aires
we suggest to take a tour of the city to taste the life palpable in every street. During the tour of the city, you will have enough time to do some shopping and buy a souvenir for those who, unfortunately, couldn't go with you. You will try
typical products
and you will attend a tango show, symbol of the city. You will visit the amazing
Iguazù Falls
, confining with Brazil, Argentina and Paraguay. The falls are part of Iguazù National Park which was declared
Wordl Heritage
by UNESCO. This huge stretch of falls will leave your breathless and will be a true spectacle that you'll never see anywhere else. In
Rio de Janeiro
you can visit the botanic garden and see more than 7.000 plants. You can enjoy an amazing excursion in
Copacabana
, famous for its beaches and the promenade, where you can take memorable pictures. You can reach
Sugarloaf Mountain
, which will offers a breathtaking view of the whole city. You will see the famous statue of
Christ the Redeemer
, symbol of Rio de Janeiro, 30 meters high and with a weight of 1145 tons. Finally you will be able to say that you've been in these magic places! In
Chile
Easter Island (also known as Rapa Nui) and its monoliths: the moais. These statues are obtained by a block of volcanic tuff and have a height of two to ten meters – the effect is impressive. You will feel dominated by these statues which are real works of art. You will also visit the cave where the moais were built. They were then transported to the site of collocation. Enjoy a dinner in front of the spectacle of the ocean, a touching experience that will create an indissoluble connection between you and the sea. Choose your favorite itinerary and decide which ship you want to be cuddled on, they are all beautiful and perfect for your holiday. You will live breathtaking adventure on land and will treat yourself with luxury and comfort aboard, for a unique combination! With our
offers
, you cannot renounce to a holiday with Ticketcrociere! Choose the length of your cruise! If you are looking for a package, we suggest a
mini-cruise
with a few days on land: the prices are great and you will feel free to see by yourself what you want. If you want to be cradled from the waves of the sea from the beginning, opt for a longer cruise and explore these lands one after the other for a chasing of emotions.
Contact our operators or leave a request on our website. With Ticketcrociere you will get only the best and the most convenient rates!
Leave with
MSC Cruises
,
Costa Cruises
and
Royal Caribbean
and discover dream landscapes, white beaches and crystalline water, as well as the most significant cultures and traditions in the world.
You can reach
Buenos Aires
and be enchanted from the different barrios of which the city is composed, breathing a cosmopolitan air that is the result of a mixture of cultures blended together year after year. Discover the elegance of
Montevideo
, the Southest capital of America, where you will find traces of the colonial past. In
Rio de Janeiro
you will go crazy for the explosion of colors and jollity that will involve you and will make you feel like you're at a party. The itineraries are various with the aim of meeting the needs of any kind of traveler. You can leave from
Santos
and touch a few cities in Brazil, or depart from
Rio de Janeiro
to reach Buenos Aires, Punta del Este in
Uruguay
and Ilhabela.
These are just a few of the destinations touched by the floating jewels that, besides the dream itineraries, offer any kind of
comfort
aboard.
Take advantage of the
last-minutes
on our website, take a look at all the departures to these magic lands and find the best offer for you. A Cruise to South America with Taoticket will change your life: contact our operators and receive your personalized
holiday package
! We guarantee the
best offers
and last minutes always active on all the cruises, flights and hotels. Do you want to stay a little more before or after your cruise? Just ask! Our operators will follow your indications if you have a precise idea in mind or will give you an advice if you still cannot decide. Find these incredible countries, you will feel so good that it'll be just like home.